Can't find what you're looking for? Keep checking back – we've got new products being added every day!
The complete guide to roof trusses
Do you need trusses for your build? Want to know if you can alter them? Or do you want to match-in to an existing roof? And just how many trusses will your roof need?
Here is your complete guide to roof trusses:
What is a roof truss?
A roof truss is an engineered, structural framework of triangulated timbers that provides support for a roof. A roof formed using trusses can use up to 40% less timber than a traditional roof – this makes them highly cost effective.
Roof trusses are prefabricated, which saves time on-site when it comes to installing them.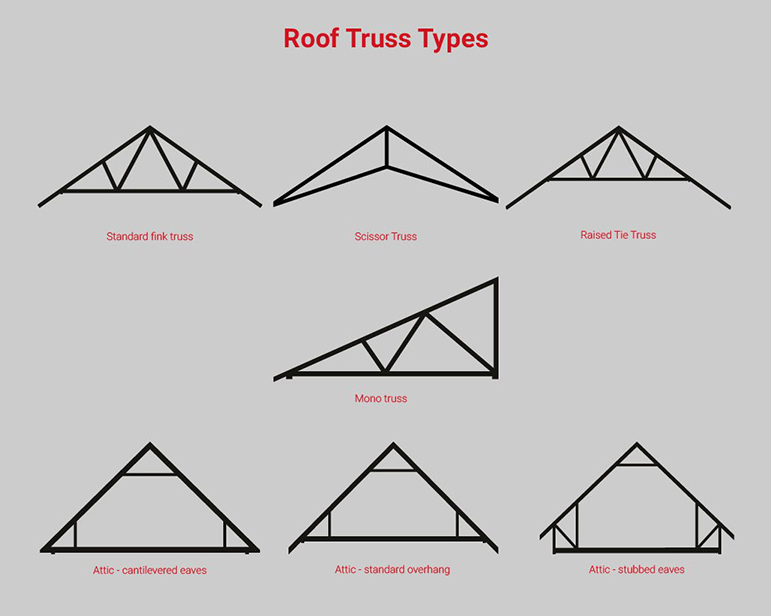 What are the different types of roof trusses?
There are many different designs of roof trusses available, but some of the most common include:
Standard Fink trusses: Mostly used by national house builders for new build homes.
Mono trusses: Sloped in one direction and mostly used in porches.
Scissor trusses: Looks like scissors and mostly used as a feature over living rooms, larger bedrooms etc. to create a vaulted ceiling.
Gable trusses: Works as an end cap for the roof and usually used alongside other types of roof trusses.
Attic trusses: Allows for extra storage or living space within the roof.
How do roof trusses work?
Roof trusses act much like a lid on a box. They work by transferring the weight of the roof to the load bearing walls of the house.
What are trusses made of?
Our trusses are made from TR26. This is a strong, specialist engineering grade of timber for trussed rafters.
Can trusses be cut/altered?
No. As an engineered product built for purpose, any moderations could affect the structural integrity of the truss.
Which is better, trusses or rafters?
While both trusses and rafters effectively do the same job, there are some differences which make trusses more suitable for modern builds.
Trusses are delivered to site as a full structural component – saving labour time and costs when it comes to installation. Rafters are known as a 'cut roof' single component which need to be assembled on-site.
Trusses can spread the weight of a roof across a number of triangulated struts and braces, whereas Rafters have 2 main outer beams which provide the support.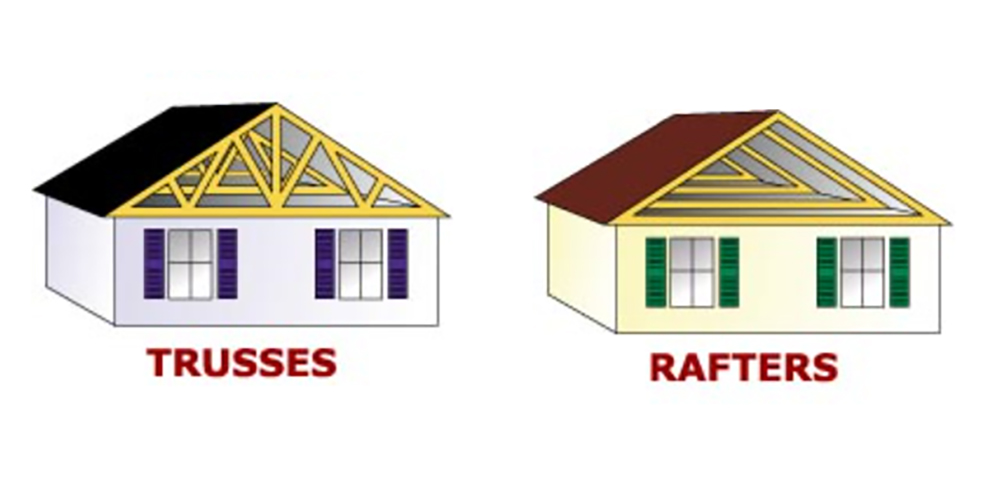 Can I get trusses with no overhang?
Yes. We are seeing more buildings being designed without truss overhang to create a contemporary, minimalist look.
Trusses can be manufactured without the overhang.
How are trusses measured?
Trusses are measured using span and pitch. Additional measurements will be required when needing to match an existing roof.
How many roof trusses do I need?
The number of trusses required for a roof depends completely on the design. However, typical roof truss spacing means that they are usually 400mm (16 inches) or 600mm (24 inches) from centre – this means from the centre of one truss to the centre or the next truss.
What truss profile is best for my build?
This all depends on your designs and requirements. Profiles will be designed to dissipate the roof load across various struts and braces in a way that works best for the build.
Thinking about extending your living space into your attic?
Are you building a double storey extension?
By opting for attic trusses, you can future-proof your property by having the option of extending your living space into the roof if required.

An attic truss is a type of roof truss that has an open space at the bottom to accommodate a living space and is designed to allow for domestic floor loadings.

We can accommodate various designs based on your requirements.

If you are building a double-storey extension, you will need to match your existing roof in with the new roof on the extension. This requires the following measurements:

Overall span (Wall to Wall)
Bottom Chord Length (If different than the Wall-to-Wall Span)
Overhang Length
Heel Height
Peak Height
Pitch/Slope of Roof

Need to match an existing roof? We can come to site to measure and provide accurately-measured trusses.
You may find these helpful
Call us for expert help and advice - 023 8038 5300. Lines open 9am - 5pm Monday to Saturday
{"consentModalTitle":"We use cookies!","consentModalDescription":"Hi, this website uses essential cookies to ensure its proper operation and tracking cookies to understand how you interact with it. The latter will be set only after consent. \u003Cbutton type=\u0027button\u0027 data-cc=\u0027c-settings\u0027 class=\u0027cc-link\u0027\u003ELet me choose\u003C/button\u003E ","settingsModalTitle":"Cookie usage \uD83D\uDCE2","settingsModalDescription":"I use cookies to ensure the basic functionalities of the website and to enhance your online experience. You can choose for each category to opt-in/out whenever you want. For more details relative to cookies and other sensitive data, please read the full \u003Ca href=\u0027/privacy-policy\u0027 class=\u0027cc-link\u0027\u003Eprivacy policy\u003C/a\u003E.","moreInformationTitle":"More information","moreInformationDescription":"For any queries in relation to our policy on cookies and your choices, please \u003Ca class=\u0027cc-link\u0027 href=\u0027/contact-us\u0027\u003Econtact us\u003C/a\u003E."}