Can't find what you're looking for? We're adding more products every day. Contact your local Elliotts branch for more information.
C16 vs C24 Timber
If you've worked with timber on a construction project, you've probably encountered the terms C16 and C24. But, while these terms are widely used, it's not always clear what they mean.  
C16 and C24 refer to the strength of a piece of carcassing timber. There are 12 different timber strength grades that can be used within the construction industry in the UK. These grades are set out by the British Standard in the BS5268.
In this guide, Elliotts' Timber Products Manager, Pat Collins, looks at what C16 and C24 carcassing timber are, and how they differ from one another.
What is carcassing timber?
Carcassing timber is softwood that has been kiln-dried and then graded according to its strength quality of C16 or C24, before being identified with the relevant grading mark.
Carcassing timber is often used for structural applications, such as floor joists, rafters and studwork.
How is timber graded?
The grades for carcassing timber, including C16 and C24, are set out by the British Standards Institution in the BS5258 compendium of codes. When grading the timber against these guidelines, various measurements are taken into account in order to assess the strength of the wood.
Factors taken into account include:
Knots
Splits along the grain
The slope of the grain
Woodworm holes
Shape
Wane
And more besides, most timber today is machine graded, but that hasn't always been the case.
"Turn the clock back a few decades timber was graded visually by a qualified grader and each grader had his/her individual stamp that was applied once graded here in the UK", says Pat.
"Nowadays most of the structural timber imported by Elliotts is machine graded at the sawmill as part of the production process."
What is C16 and C24 timber?
C16 and C24 are two of the most commonly used grades of timber. The C stands for conifer, the type of tree that the timber comes from (Spruce-Pine-Fir, or SPF for short) while 16 and 24 refer to the strength grade.
Both grades are used in a variety of structural applications, including:
Rafters
Floor joists
Studwork for partition walls
Formwork
Shuttering
And more.
The different grades are suited to different loads.
What's the difference between C16 and C24 timber?
There are several differences between C16 and C24 timber.
Quality
Although both C16 and C24 are strong, durable, and used widely throughout the construction industry, C24 timber offers premium quality.
Appearance
C16 timber can have some defects that impact the overall appearance. C24 graded timber, on the other hand, has less visible defects and a more uniform appearance. This makes it the preferred choice for projects where the timber will be visible within.
Strength
Both C16 and C24 timbers are strong enough to handle the demands of construction applications. However, C24 timber is the stronger of the two, meaning it tends to be the material of choice for larger projects or those where strength is essential.
Cost
If you're working to a budget, C16 timber is typically more cost-effective, because it is usually produced in the UK. C24 grade, on the other hand, can only be achieved by importing the timber from areas where the climate forces a slower growth rate. This increases the cost.
C16 vs C24 Timber FAQs
If you cut C16 or C24, does it lose its grading?
Yes. If the timber is re-sawn in its cross-section or thickness, then its strength grade could be lost. Both of the resulting pieces of timber will need to be re-graded before they can be used.
I need C24 grade timber, but I can't see a printed mark on the wood?
If you can't see a printed mark, we advise not use it for a structural application. All graded timber will have a C16 or C24 mark on it. So, if you can't see the mark, it's probably not graded.
Here is a typical mark used in the UK for C16 timber: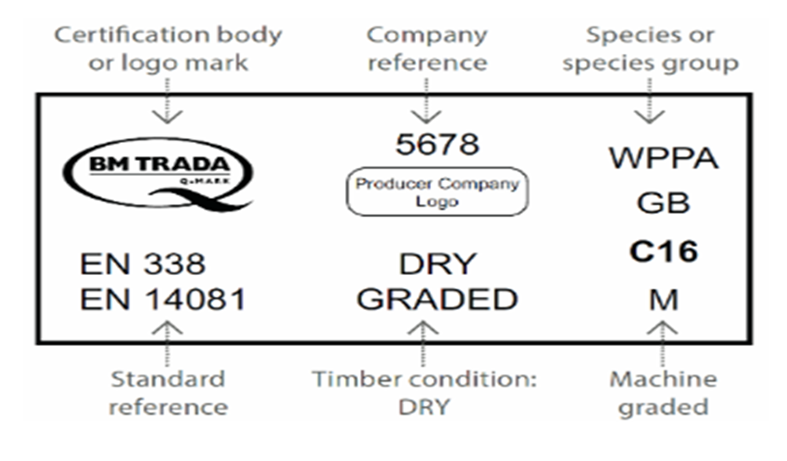 Is carcassing timber treated?
All of the graded timber at Elliotts has been kiln-tried and then pressure treated to protect it from insect and fungal attacks.
What carcassing sizes do you sell as Elliotts?
All Elliotts branches stock C24 graded carcassing as standard. We supply carcassing timber in the following sizes:
| Thickness | Width | Grading | Treated |
| --- | --- | --- | --- |
| 100mm | 100mm | C24 Grade | Yes |
| 75mm | 100mm 150mm 200mm 225mm | C24 Grade | Yes |
| 47mm | 50mm* 75mm* 100mm 125mm 150mm 175mm 200mm 225mm 250mm | C24 Grade *Except 47 x 50mm and 47 x 75mm | Yes |
| 22mm | 75mm 100mm 150mm 200mm | Ungraded | Yes |
---
Why buy timber from Elliotts?
"At Elliotts, we buy direct from the sawmills, and only from sawmills that can certify the species and origin of the wood , this ensures legality of the logs. And we only buy C24 as standard (aside from 47 x 75 and 47 x 50).
Our 14 merchant branches across Hampshire and Dorset carry large stocks of timber, including long lengths up to 7.2m. But with over 80 years of timber experience in our timber department, whatever your timber needs are we can supply it."
- Pat Collins, Timber Products Manager
You may find these helpful
Call us for expert help and advice - 023 8038 5300. Lines open 9am - 5pm Monday to Saturday
{"consentModalTitle":"We use cookies!","consentModalDescription":"Hi, this website uses essential cookies to ensure its proper operation and tracking cookies to understand how you interact with it. The latter will be set only after consent. \u003Cbutton type=\u0027button\u0027 data-cc=\u0027c-settings\u0027 class=\u0027cc-link\u0027\u003ELet me choose\u003C/button\u003E ","settingsModalTitle":"Cookie usage \uD83D\uDCE2","settingsModalDescription":"I use cookies to ensure the basic functionalities of the website and to enhance your online experience. You can choose for each category to opt-in/out whenever you want. For more details relative to cookies and other sensitive data, please read the full \u003Ca href=\u0027/privacy-policy\u0027 class=\u0027cc-link\u0027\u003Eprivacy policy\u003C/a\u003E.","moreInformationTitle":"More information","moreInformationDescription":"For any queries in relation to our policy on cookies and your choices, please \u003Ca class=\u0027cc-link\u0027 href=\u0027/contact-us\u0027\u003Econtact us\u003C/a\u003E."}