Can't find what you're looking for? We're adding more products every day. Contact your local Elliotts branch for more information.
Gender pay gap
Elliott Brothers Ltd is required by law to publish an annual gender pay gap report; the results of which are shown below for 2022.
Our mean gender pay gap, at -7.7%, is significantly better than +13.9% for the economy*. Our median gender pay gap of -7.0% is also significantly better than the +14.9% for the economy*.
The difference in quartiles is the result of the roles in which men and women work within the company and the salaries that these roles attract.
We continue to work to attract women into roles in branches, which have traditionally been filled by men. This is a challenge experienced across construction and related industries.
Changing people's perceptions of our industry, and highlighting the great career opportunities available to everyone, will have the most positive impacts.
Our gender bonus pay gap (incentive data) is 18.7% mean and -1.1% median. There is still work to be done in this area, to encourage more women into managerial roles.
Tom Elliott
Managing Director
We confirm the data reported is accurate. In accordance with the Equality Act 2010 (Gender Pay Gap Information) Regulations 2017, Elliotts Brothers Limited is required to carry out Gender Pay Gap reporting.
*According to the Annual Survey of Hours and Earnings (ASHE) from the Office for National Statistics (ONS), November 2022.
2022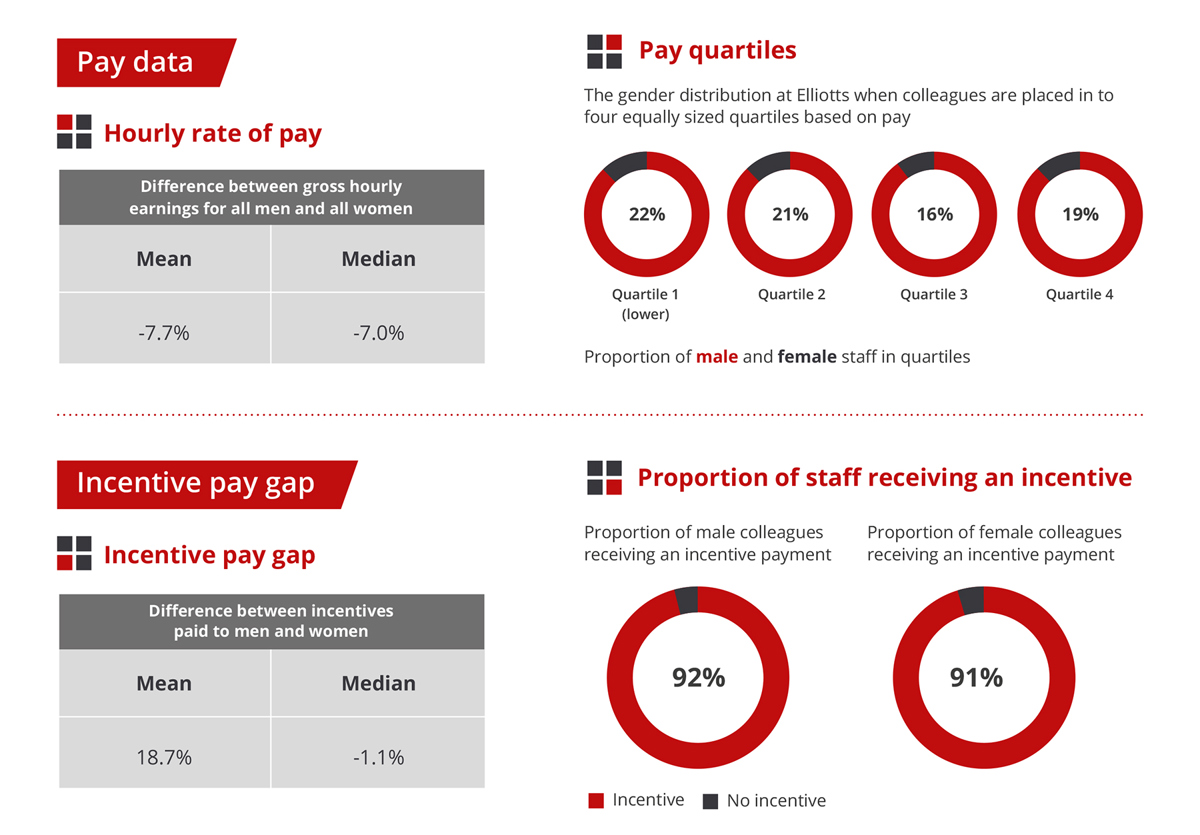 2021
Call us for expert help and advice - 023 8038 5300. Lines open 9am - 5pm Monday to Saturday
{"consentModalTitle":"We use cookies!","consentModalDescription":"Hi, this website uses essential cookies to ensure its proper operation and tracking cookies to understand how you interact with it. The latter will be set only after consent. \u003Cbutton type=\u0027button\u0027 data-cc=\u0027c-settings\u0027 class=\u0027cc-link\u0027\u003ELet me choose\u003C/button\u003E ","settingsModalTitle":"Cookie usage \uD83D\uDCE2","settingsModalDescription":"I use cookies to ensure the basic functionalities of the website and to enhance your online experience. You can choose for each category to opt-in/out whenever you want. For more details relative to cookies and other sensitive data, please read the full \u003Ca href=\u0027/privacy-policy\u0027 class=\u0027cc-link\u0027\u003Eprivacy policy\u003C/a\u003E.","moreInformationTitle":"More information","moreInformationDescription":"For any queries in relation to our policy on cookies and your choices, please \u003Ca class=\u0027cc-link\u0027 href=\u0027/contact-us\u0027\u003Econtact us\u003C/a\u003E."}