Can't find what you're looking for? We're adding more products every day. Contact your local Elliotts branch for more information.
Composite Decking: A complete guide
Installing decking is a great way to create a space in your garden that can be used for a wide range of different purposes.
Whether you opt for freestanding decking or decking that is attached property, composite decking could be the perfect option for you.
The rise of composite decking
Composite decking has improved and become much more sophisticated in recent years. So much so that you'd probably have a hard time telling a timber deck from a composite one.
And with a bigger focus on low-maintenance gardens and outdoor spaces, composite decking is becoming a more popular choice.
Why choose composite decking?
Many people choose composite decking as it requires little maintenance once it has been installed. It also has great slip resistance and will look good for many years.
With an improved safety aspect, many commercial and residential projects are starting to turn to composite decking brands such as Millboard and Trex to create a worry-free outdoor space.
Composite decking vs timber decking
When searching for the perfect decking, it's important that you understand the difference between composite decking and timber decking.
If you're looking to create a low-maintenance deck suitable for family members of all ages, composite decking is likely to be more suitable for you.
Composite decking has great safety features and requires very little maintenance. There's no need to get the sanders and treatments out each year.
But timber decking is great for those on a budget. Composite is a pricier option, so if you're happy to annually maintain a wood deck then timber decking is a great option.
Is composite decking bad for the environment?
Timber decking is much more natural than composite decking. However, with many of us looking for more sustainable materials and ways of life, composite decking brands are committed to creating green and environmentally friendly products.
Trex deck boards, for example, are made from 95% recycled materials, saving over 180 million kilos of plastic and timber scrap from landfills every year. Meanwhile, Millboard boasts a CO2 footprint that matches a kilo of bananas!
Millboard composite decking
Designed and made in Great Britain, Millboard decking is a composite decking solution. This is a low-maintenance, high-performance and wood-free alternative to timber decking is inspired by non-slip sole shoes.
Made with a unique surface material, the boards boast the highest possible anti-slip rating, even in wet conditions. And, thanks to the use of a wood-free resin composite, Millboard is resistant to heat, cold, and the sun, come rain or shine.
What is Millboard made of?
Millboard is a Polymer Composite, also known as FRP. The core materials used to make Millboard are polymer-based resin and a variety of different fibres, including glass, carbon, and natural fibres for reinforcement. The top layer is made from Lastane – a stain and scratch-resistant coating that provides durability in all conditions.

What are the benefits of Millboard over timber decking?
One of the main benefits of choosing Millboard is that you will be able to enjoy the aesthetic appeal that comes hand in hand with natural timber, but with less maintenance.
Millboard is solid and does not expand or contract, rot or warp like wood. It is also splinter-free, easier to install than timber decking, and coated in Lastane, meaning it is highly resilient against stains and scratching, and able to withstand the elements.
Want to know more about Millboard? Check out our 14 most popular questions about Millboard.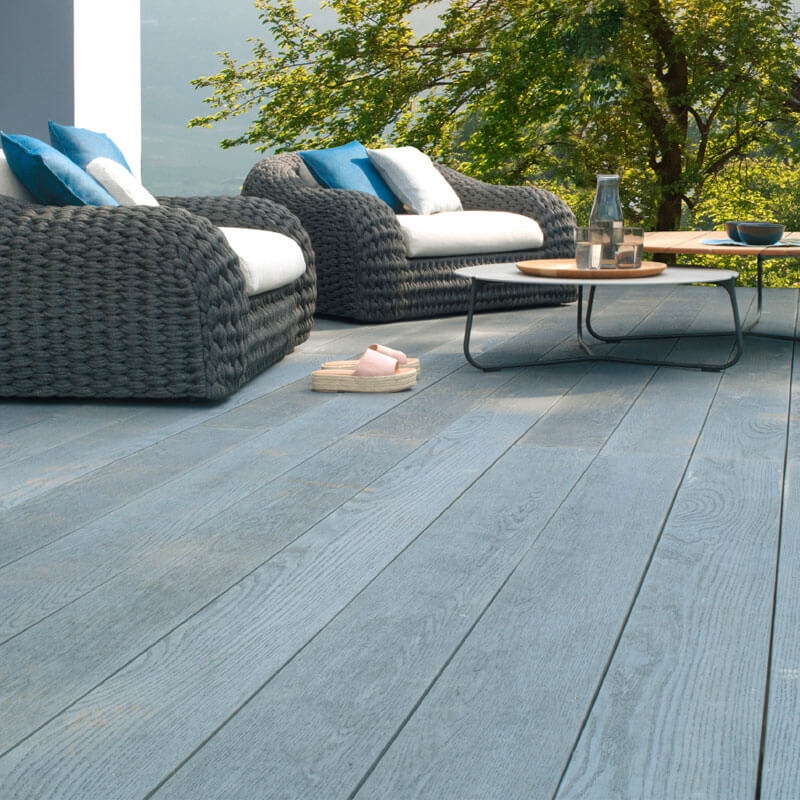 You may find these helpful
Call us for expert help and advice - 023 8038 5300. Lines open 9am - 5pm Monday to Saturday
{"consentModalTitle":"We use cookies!","consentModalDescription":"Hi, this website uses essential cookies to ensure its proper operation and tracking cookies to understand how you interact with it. The latter will be set only after consent. \u003Cbutton type=\u0027button\u0027 data-cc=\u0027c-settings\u0027 class=\u0027cc-link\u0027\u003ELet me choose\u003C/button\u003E ","settingsModalTitle":"Cookie usage \uD83D\uDCE2","settingsModalDescription":"I use cookies to ensure the basic functionalities of the website and to enhance your online experience. You can choose for each category to opt-in/out whenever you want. For more details relative to cookies and other sensitive data, please read the full \u003Ca href=\u0027/privacy-policy\u0027 class=\u0027cc-link\u0027\u003Eprivacy policy\u003C/a\u003E.","moreInformationTitle":"More information","moreInformationDescription":"For any queries in relation to our policy on cookies and your choices, please \u003Ca class=\u0027cc-link\u0027 href=\u0027/contact-us\u0027\u003Econtact us\u003C/a\u003E."}